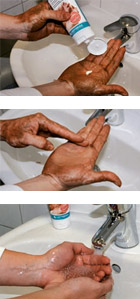 Two in One




Print PDF

Safety-Data-Sheet
Industry proven Hand Cleaner Paste

- with novel system back cream
- system for lasting skin protection
- through the concentrated prescription approx. 3 ml suffice per application
- putting on product economically onto the dirtied, dry hands

Product advantage
• Industry high quality
• Removes oil, fat, tar, bitumen, printing inks, resins etc.
• With novel system back cream-system for lasting skin protection
• Contains high-quality means skin-protecting plastic grater
• Free from alkalis, silicon, sand and sawdust
• Do not block any drains
• Acts on basis of raw materials growing again
• PH neutrally dermatologic testet

Capacity
250 ml
© 2010 Entuco Service. All Rights reserved.