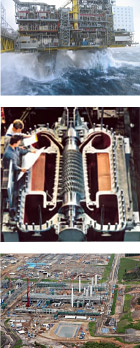 Field
Service
Engineers



Print PDF

Entuco service engineers are specialists in rotating equipment for the oil and gas industry and for refining and petrochemical facilities with substantial knowledge and experience in the area of steam turbines, gas compressing units, and all types of pumps and gas turbines.

Our engineers are trained personnel with over 20 years experience. They are specialised in new machinery, overhaul of old machinery, revisions and trouble shooting all over the world. Furthermore we have our own repair shop which specialises in: repairs, overhaul and revision of compressor units, milling, drilling, welding construction (for example pipe building) and project co-ordination. We develop and produce assembly reports in three languages with detailed work reports, diagrams, photos of the layout, and drawings supplied by the producer of the machinery.

Our service for new units:

• Supervision during installation, preliminary testing and start up
• Trouble Shooting
• Basic knowledge of Allen Bradley and Siemens PLC systems
• Basic knowledge of Woodward devices
• Bently Nevada vibration analyses
• Reporting during the entire construction process in English, Spanish and German

Our service for repairs/overhaul:

• Supervision during overhauls / revision
• Supervision during maintenance and refurbishing
• Supervision during modification
• Spare parts identification
• Spare parts inspection
• Reporting on all activities in English, Spanish and German
© 2010 Entuco Service. All Rights reserved.