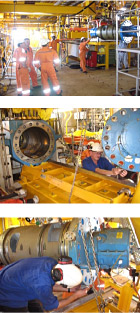 Revision
Overhaul
Mechanical



Print PDF

Entuco Service Ltd. provides highly qualified and highly experienced engineers for your special task in rotating equipment for the oil and gas industry and for refining and petrochemical facilities.

With over 20 years experience in the field they are technical specialists in new machinery, overhaul of old machinery, revisions and trouble shooting all over the world – off shore an on shore. Furthermore we have our own repair shop: repairs, overhaul and revision of compressor units, milling, drilling work, welding construction (for example pipe building) and project co-ordination. We develop and produce assembly reports in three languages with detailed work reports, diagrams, photos according to layout and drawings supplied by the producer or customer of the machinery.

A bright mechanical service for your equipment:

• Overhaul of complex machinery
• Revision of complex machinery
• Modification of machinery with the latest technology and fittings
• Maintenance and refurbishing of old machinery
• Repair and dissembling and assembling of units and machinery
• Repair of hydraulic and mechanical rotating equipment
• Milling, drilling and boring activities
• Welding, pipefitting activities
• Project co-ordination
• Assembly reports for all activities in English, Spanish and German
© 2010 Entuco Service. All Rights reserved.