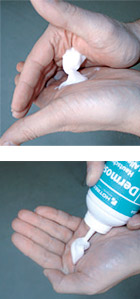 Dermoseal




Print PDF

Safety-Data-Sheet
Skin protection and allergies blocker

- water and soap resistant
- silicon free
- breathable
- dermatologically testet very good

Works in Seconds – protects for hours
Silicone free hand guard foam, protecting skin against strong pollution and contact contact allergies. The completely breathable protective film prevents the draining of the skin and guarantees optimal grip security through the fat-free formulation. Dermoseal is water and soap-film and protects for approx. 4 hours. One can is sufficient for up to 350 applications.

Use
Protection against aggressive dirt and skin harmful stubstance for example oil, fat,
abhesine and sealing-materials, solvents, color, cool lubricants, aggressive etc.
detergents. Industry application: oil and industry gas, refineries, chemistery, hotels,
hospitals, car shops and coating-companies, house and garden etc..

Capacity
400 ml
© 2010 Entuco Service. All Rights reserved.