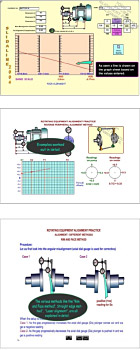 Field
Alignment
Service



Print PDF

Entuco service personnel are trained personal with over 15 years experience for Field Alignment of all kind of units are available in the oil and gas industries. For example: turbine units, compressor units, generators and pumps.

There are specialists for successful alignment in all prerequisite in Field Alignment with laser equipment and dial gauge method. Therefore alignment extension can built on site for dial gauge individual for all type of coupling to do a successful alignment according to drawing. For all alignment we write a single Alignment Field Report. You may require it in three languages (English, Spain and German) with detailed action, sketch and photograph in according machine and layout drawings. Therefore alignment calculation software are available with option to print outs.

Follow itemize can be ordered:

• Laser Equipment Rotorlign Pro (only include field service rep or senior engineer)
• Set alignment dial gauge method
• Senior field service engineer available
• Field service representative available
• Senior field service engineer for erect and align full unit package
• Prepare alignment extension in workshop or direct on site (last, if equipment available)
• Alignment field report in three languages (English, Spain and German)
• Jacking equipment for 100 t unit and machinery (more capacity on request)
• Alignment tool container available with complete field equipment
© 2010 Entuco Service. All Rights reserved.