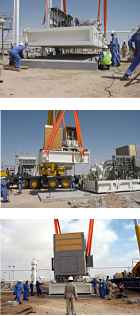 Field
Lifting
Operation



Print PDF

Entuco personnel are trained in carrying out heavy lifting operations for all types of units prevalent in the oil and gas industries. For example: turbine units, compressor units, generators and pumps. Our staff is specialized in safe and controlled lifting operations with appropriate lifting equipment. All our staff is trained in design principles and control of machinery, and plan detailed lifting procedures, determined by producer instructions. All lifting procedures are planned to the highest standards in the oil and gas industry, and, if desired, can be planned in three languages: English, Spanish and German.

We provide complete service:

• Inspection of foundation according to drawing and layout planning
• Inspection of lifting equipment and machinery
• Preparation of lifting arrangements in three languages
• On site inspection and continuous inspection between lifting tasks
• Final report for all lifting operations
• Accident and damage reporting for insurance before and after assembly
• Handover report to client
• Container with lifting equipment up to a maximum 250 t of machinery
© 2010 Entuco Service. All Rights reserved.